Monday, June 28
Oudtshoorn, RSA to Addo, RSA (425km or 264mi)
We knew we were getting a late start on the road after enjoying Buffelsdrift, and then our visits to both the Cango Caves and the Cango Ostrich Farm.  We wanted to get driving back on the "Mountain Route" (Route 62) as quickly as possible so we would see as much of the landscape as we could while it was still light.  There wasn't much hope of reaching Addo before dark though.  We headed out through Oudtshoorn, back to Route 62 and really enjoyed finishing this scenic drive.  We merged back with the N2 around Humansdorp for a quick shot to Port Elizabeth while listening to the day's soccer game in multiple languages again on the radio.
The sun was starting to set at this point and we had a ways to go on the teeny tiny Route 335 in pitch black up the western edge of the park, through the village of Addo, to get to the Main Gate.  It was a hair-raising drive as semis would come barreling down towards us and there was not enough room on the road for both of us and no shoulder to drive on and no light to see if there was a safe soft shoulder to pull to the side.  In fact the highway was so narrow that the yellow line wasn't painted on the asphalt; it was painted on the dirt to the side of the asphalt.  It was a nervous hour.  Somehow, Josh thought it would be better to get through this portion of the drive as quickly as possible, so we also did this at speed.
We were relieved to arrive at the gate.  We were welcomed by the park's gatekeeper, who took down our information and reason for our visit, and then made sure that we knew that Ghana had "buried" the U.S. a few days ago.  After checking in and getting the key to our chalet, we got settled.  The chalet was large with a kitchen and bath – very comfy.  We ate dinner at the Main Camp's restaurant.   While the food was unremarkable, we had a great bottle of South African Sauvignon Blanc from the Durbanville Hills winery.  We didn't finish the wine with dinner so we took our bottle and glasses over to the outdoor picnic venue they had set up for World Cup viewing and watched the late game of Brazil versus Chile.  There was a group of Brazilians at the park who set up a table to watch the games with all their gear and flags and parked their car out front with an over-sized replica trophy strapped to the top – almost the size of the whole car.  They were a little over the top, but it was all in good fun.  We hit the hay early because we were both fighting African winter colds and so we could get up before the sun and see the most animals possible in the morning!
The second leg of the road trip:
Drive on Route 62: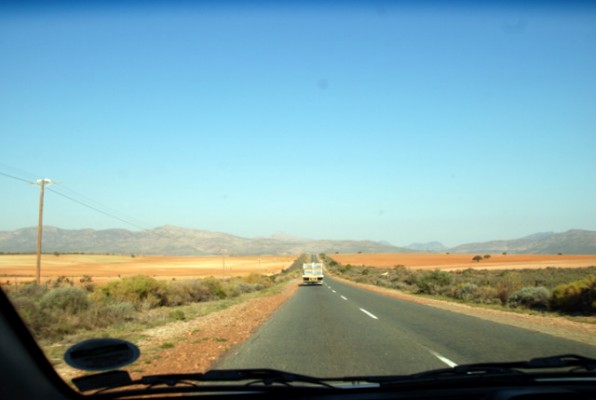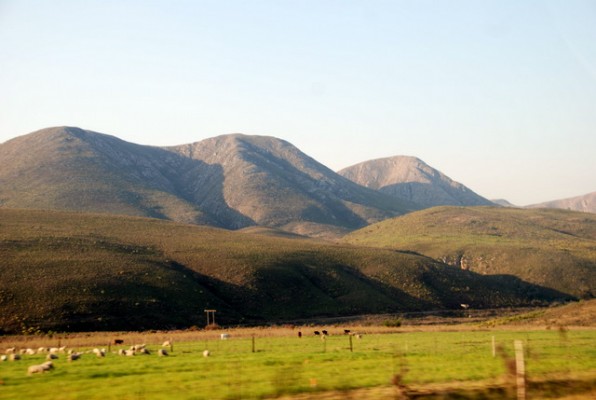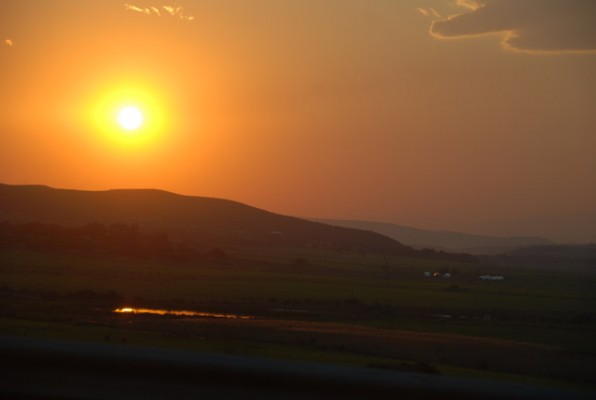 Our accommodations at Addo: