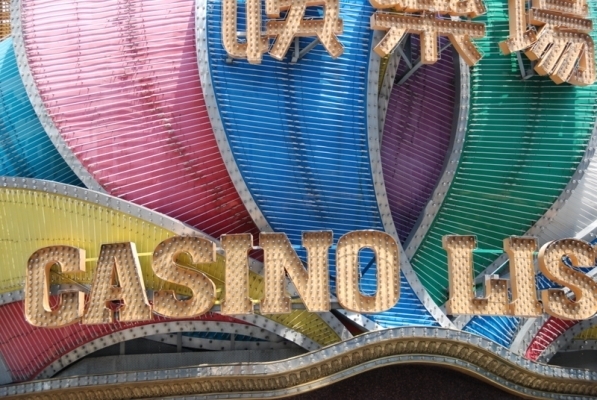 Saturday, July 26, 2008
Today we decided to hit China's other
SAR (Special Administrative Region)
,
Macau
. China has two of these SARs and uses the statement "One country, two systems." to describe the governing principle. It works quite well for everybody involved and we got more stamps in our passport… But that was about the highlight of our Macau time. We didn't like it so much – not our style maybe? It was SUPER tourist filled in a bad way. WAY too crowed in the old Portuguese parts of town we could have enjoyed. Too many people, shoulder-to-shoulder, in blazing, over-the-top-heat, all WITH umbrellas at our eyeball height, all withOUT any sense of self awareness or unilateral direction. They cut you off then walk *backwards* into your eyeballs with an umbrella prong. They are nuts. We are not into casinos so those were of no use to us. The heat was heavy you couldn't force even a slight breeze no matter how you fanned your guidebook. It was not our favorite day. We did finally find a yummy "cake shop" that sold tasty lunch rolls after searching for an hour or so for suitable food in a not great for eating (we found out) part of town. The one other place we found was so ridiculously scuzzy and dirty! And needlessly so! There was a store selling toilets, of all things, next door that was spotless! But here is the list of fun things we saw on Macau that we will soon post pictures of: the odd
Fisherman's Wharf
, a huge statue of Kun Iam,
Hotel Lisboa
, the new
Grand Lisboa
, the finest Portuguese building on Macau –
Leal Senado
,
Senado Square
,
Sao Domingos
, the remaining facade of the grand
Sao Paulo
, the ramparts of
Fortaleza do Monte
, the classical (and gorgeous) Chinese garden
Jardim Lou Lim Ieoc
, the botanical gardens of Guia Hill (where we rode the cable cars up to the top), the
Guia fortress
(and chapel and lighthouse), and of course a myriad of city views from different hills and many random buildings. We know many people have loved Macau. We do not belittle your fondness for your Macau. We may have missed something, gone at a wrong time, or it may just not be for us.
Pictures and more follow the jump.
After taking the hour long ferry back to Kowloon we reset at the hotel (luckily enough catching the city light show again), had a few pre-party drinks in the room then headed out to LKF to hit Ebeneezer's one last time for Doner kabobs and samosas and then to go to the bars there. We got a great spot at Lost and spent our whole night there. We had great fun, then headed home to catch some shut eye before our last day in Hong Kong tomorrow. We are sad to leave, but ready to get back to real life.
Sent from my BlackBerry wireless device