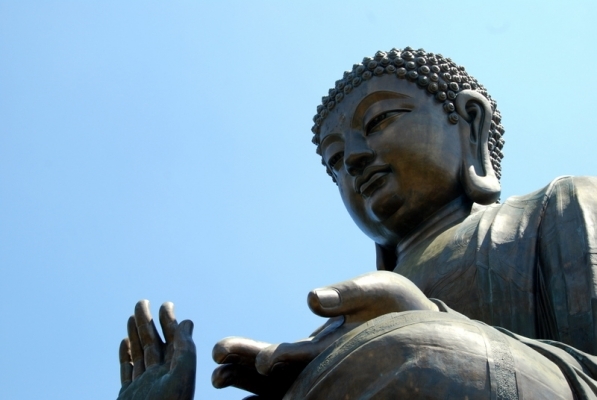 Friday, July 25th, 2008
Today, the camera was full. Josh spent some time this morning transferring photos and Jeannette brought back coffee and pastries. Then we headed via subway to
Lantau Island
to see the world's largest Buddha. Well, the
largest seated, bronze Buddha
. But it was HUGE! And the day was hot. We got to take a
cable car
up to the
monastery
where the Buddha sits. It afforded some pretty sweet views. But the Buddha itself was definitely the highlight. After the cable car ride back down and subway ride back to Hong Kong Central, we went to a Chinese noodle shop Josh had visited before and had super yummy noodles and sandwiches. We did a little school clothes shopping for Josh at
Shanghai Tang
's sale then headed for jaunt on a double decker trolley out to the
Wan Chai
neighborhood and back. Then we rushed to the Star Ferry to get back to Kowloon and the Y for one of our Tsingtaos we stuffed into the minibar fridge and the skyline night city light show. It was spectacular from our harbor view windows.
Tomorrow… we'll see what the day holds.
Sent from my BlackBerry wireless device
Pictures after the jump.
Tags: HongKong, LantauIsland