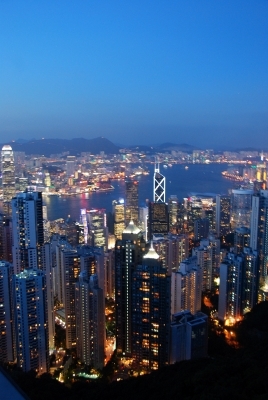 Thursday, July 24th
After we checked into the YMCA, it was still too early to get into our room, so we left our weighty luggage behind and headed out for coffee, pastries, and skyline viewings from the Harbor. After about an hour or so we headed back to the Y and got to see our awesome room! You would not believe how nice our room is. No joke. Our room is sweet and our view is incredible. If you are so inclined, you should google it. We are at the
YMCA Hong Kong, Salisbury
. We have a
Harbor View Room
.  Incredible.
Pictures and our very long day exploring Hong Kong and introducing the city to Jeannette after the jump…
We gathered our wits and dusted our sleepiness from our brains and headed out right away to check out Hong Kong Central. We took the Star Ferry over and walked and walked. Josh picked up right where he left off in Central. We had lunch in SoHo under the Mid-Levels escalators in a pub called The Wheel. We then walked down Hollywood Road, went to Man Mo Temple (which had amazing incense clouds and sunlight), looked at antiques and street markets, saw the Western Market (Jeannette found this eerily similar in historic importance yet touristy cliche to Faneuil Hall Market Place) and then rode the Mid-Level escalators up a ways before walking to Long Kwai Fong (LKF) on our way to the Victoria Peak tram.
We rode the tram up the steep hill climb to the amazing views of Hong Kong at the top of Victoria Peak. The weather was beautiful and clear. It even garnered front page news in the local newspapers for "picturesque" weather perfect enough for the postcards. Josh was happy because the weather last time wasn't as clear. We stuck around until sunset so we could see the skyline light up with night time city lights. It was beautiful. We rode the tram back down and then headed back to LKF to the Hong Kong Brew House for some light pub grub and Hong Kong Brew. No Hong Kong Brew House pint glasses for sale, unfortunately, though. Then we headed down to Ebeneezer's, Josh's Hong Kong place for falafal and lamb shwarma, which is just what we ordered – to go. We hopped the Star Ferry back to Kowloon, stopped by 7-11 for some Tsingtaos, and headed to the Y to eat in our awesome pad and catch the light show that started at 11pm…. that really started at 8pm. So we missed it. Josh had it in is head from last visit that it was 11pm. But we have 2 more nights to catch the citywide skyline spectacle, so we are not worried.
We ate, then we sleep.
Sent from my BlackBerry wireless device